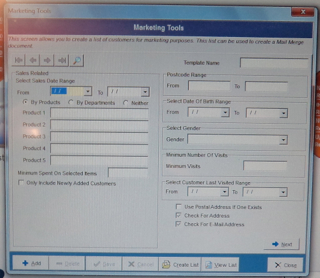 The marketing tools in the Tower Systems Point of Sale software are valuable in helping retailers better connect with their customers.
By harvesting data from our sales and customer files, retailers using our Point of sale software are able to intelligently connect with customers in a range of ways.
From letters of thanks to special offers to loyalty rewards, using our marketing tools provides retailers with valuable options for cultivating relationships to a higher value in the business.
Our customers can access the marketing tools from a simple screen within the software (see picture) and build their campaign from there based on the criteria for data extraction they select.  This is an example of where good Point of Sale software goes way beyond the transacting of sales at the counter and delivers excellent business building opportunities.