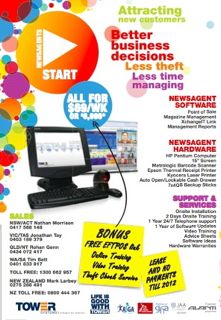 Small newsagents across Australia are set to benefit from a package of assistance put together by Tower Systems.
Created in response to needs expressed by newsagents, associations and some suppliers, Tower Systems has put together a computer hardware, software, services and business assistance package which will help smaller newsagents reap rewards by using the software used by more newsagents than any other software.
We have created a special hardware and software package based around quality brand name hardware: HP, Epson and Kyocera.  We have loaded this with the software already used by more than 1,760 newsagents.  We have backed it with on site installation and training.  We are support in it with 24 hours a day seven days a week support.
We have sourced funding which should be accessible to most newsagents.
We have also put together a business management and support package to help these smaller newsagents drive business efficiency and improve their business performance.  This assistance package goes beyond the newsagency software and delves into areas of general newsagency management.
This small newsagency offer is EXCLUSIVE  to Tower Systems.