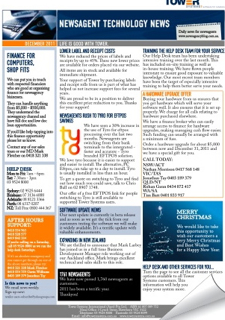 Last week we mailed our December newsletter out early to retailers using our Point of Sale software.  We included with the newsletter a second page documenting the various customer service contact points we offer from direct phone contact to email, website and other entry points.
In addition to reminding our customers of key contact points, the newsletter is an excellent reminder of our commitment to professional communication around our business services.  It's a terrific document with which our customers can compare us to any other company offering similar software.
Having our own graphic designer on full time staff helps us present ourselves in a professional way.