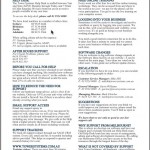 Easy access to the Help Desk and other key service points is vital to good customer service by any software company, especially for software companies which service retailers.
Click on the image to see the customer service contact sheet we provide to retailers using our Point of Sale software.  We have a modified version for our New Zealand based customers.
While we have shared this level of contact point detail with our customers for years, we revise the presentation regularly.  This sheet is the latest version.
We are proud too include full contact details here for key management people in our company including our Managing Director.  This is rare for a software company.  It demonstrates faith in our products and our services.  It also demonstrates the importance we place on our customer relationships.
Here at Tower Systems we understand the value of accessible customer service.  It's a key factor in our success.