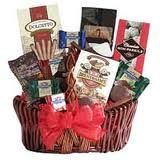 Hampers continue to grow in popularity with retailers and with shoppers.  Good hampers, created with thought and care, make gift buying easier.  They can also drive excellent incremental business for a retailer.
Retailers using our Point of Sale software are able to make the most of the hamper opportunity by managing and tracking what goes into each hamper – managing inventory data at the item level but enabling the sale of the hamper at the total package level.  The software also facilitates the deconstruction of a hamper from the consolidated item back to an individual item.
Retailers across our various niches use our hamper facilities: newsagents, bike shops, jewellers, garden centres, homewares shops and gift shops.  The hamper facilities serve all from the simplest of needs through to the most complex, from large hampers to small.
In addition to easier selling, the hamper facilities in our Point of Sale software also provide excellent performance reporting, enabling management to make more informed decisions about future engagement with the hamper opportunity.
We are seeing an increase in the use of hampers in retail this Christmas.  We are thrilled to have an opportunity to help our retail customers make the most of this.