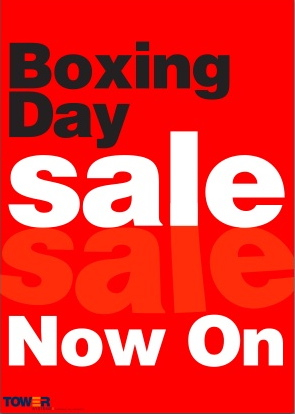 We have produced two posters and made the artwork for these available to our customers for use in promoting Boxing Day Sales.
The artwork is free for our customers.  We are pleased to have the resources to be able to help our Point of Sale software customers in such a non-traditional way.  This is not the first time we have done this and it is certainly not the last.
Boxing Day sales are vital to many retailers.  The phenomenon is strongest in Victoria where we have our Head Office.  It is a tradition which has evolved over many years.  Today, many retailers purchase inventory especially for the sale.
Even though it is called the Boxing Day Sale, it usually runs for two weeks.  From a software perspective we help by making it easy for retailers to offer pricing on products which applies for the period of the sale and then reverting to the usual price.
Customers who are unable to print the Boxing Day Sale posters in colour are welcome to contact us and we will print A3 versions and post these off without charge.
The relationship we have with retailers using our Point of Sale software goes way beyond the software.  We think this is a reason we receive so many recommendations from existing customers.