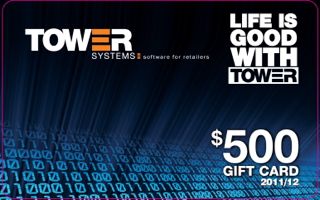 We have sent a $500 professionally produced plastic gift card to retailers in several channels as promoting our Point of Sale software. While the focus of this campaign is our Point of Sale software, the campaign also promotes our support of gift cards.  It also demonstrates the professional design and manufacture of gift and loyalty cards available through our marketing department.
The cards have been sent to retailers along with a cover letter.  Each card can be redeemed by a retailer with the $500 gift being used toward the cost of purchasing our Point of Sale software.  On the reverse side of each card is the contact details for our national sales team.
We have been in the gift and loyalty card space for many years.  Both offer retailers excellent benefits for building more successful businesses. we back our software facilities in these areas with advice sheets, training videos and regular free live online training workshops.