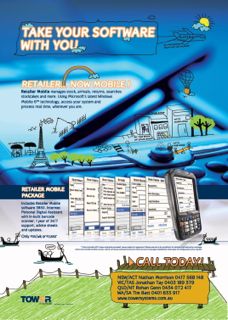 We have offered access to out Point of Sale software from mobile devices for many years. Our offering has evolved in line with hardware, making use of new facilities delivered through new devices.
Today, the devices we support are broad from the Apple iPad and Samsung Galaxy Tab through to hardware specific devices designed for use in tough physical environments such as warehouses and on the floors of trade shows.
Our Retailer Mobile offering provides flexible and convenient access to our software from a range of platforms, serving a multitude of needs.  This is ideal for retailers and wholesalers keen to not only access the software to check business performance but to also undertake valuable and time saving work while on the road.
The latest flyer promoting Retailer Mobile from our in-house creative team is out now and helping to drive sales for us to retailers keen to access business data from outside of their business.