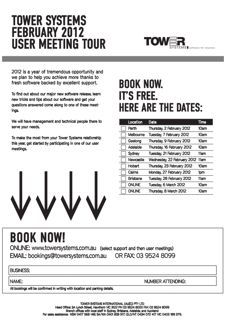 We have been actively promoting the first round of POS software user meetings and group training sessions for 2012 with this flyer whinge we have sent to all of our customers by email and snail mail.
The flyer outlines the agenda, details the dates and makes booking easy for those who prefer to fax back a booking form.
The flyer also demonstrates our professional approach to business.  By scheduling a series of meetings, widely promoting these and being transpired about bookings, dates and times, we are demonstrating that this is real. Some software companies say they are doing meetings but don't publish details.
Key features of the meetings will be training on the latest release of our software and a preview of the next release. We're confident our customers will find this exciting!
Access to any of our user meetings is free.  We require bookings to ensure that we have catering and space prepared.  Bookings are already flowing even though the meetings are close to a month away.
For retailers using our software who cannot attend one of the face to face meetings we are offering two online meetings at the end of the face to face tour.