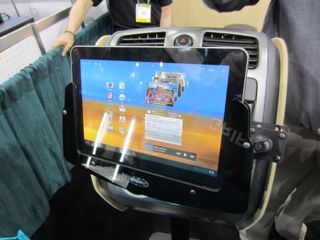 One the benefits of our recent retail study tours overseas is the enhanced connections with a broad range of suppliers of products which add value to what we do here. One such relationship is with a business which provides in-car frame which hold the iPad and similar tablet devices.  This is useful for distribution businesses as well as business situations where managers or owners are on the road wan need to remain in regular data contact with the retail store.
At the CES trade show in Las Vegas a couple of weeks ago we saw several iPad frames for vehicles. Most were designed to work in almost any type of vehicle and to provide easy and safe access to the iPad.
With our newspaper deliver run lists, sales reports and other facilities available on the iPad, and have been since the launch of the device, kist like this for placing the iPad in the car are a boon.
It is insights like this which help us show off the value of our investment in making ourselves aware of overseas innovation.