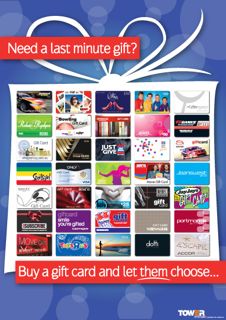 We are pleased to have been bale to provide our Point of Sale software customers with another marketing tool with which to promote their businesses. This time it is a poster promoting the range of gift cards which customers can sell through our Point of Sale software.
The poster (shown left) was created in house in our marketing department. It's A3 in size and can be customised at the store level so that it has the name of the business professionally represented on the free marketing poster.
This is another way we add value to the relationship we have with our customers.
If you have suggestions on generic retail support posters you would like our creative team to consider creating, please let us know.