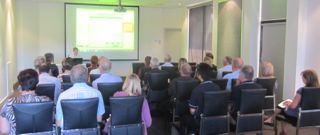 We had a terrific user meeting in Adelaide today with retailers using our Point of Sale software.  It was a session along the line of what our customers have come to expect from us: sharing of business insights, an update on our services, training on our software and a freeform Q&A between our users and our tech experts.
We are proud and thrilled to be in a position to run these sessions for our customers right around Australia, demonstrating each time the Tower AdvantageTM and putting on show the value of the relationship with our customers.
With so many talking retail down in the media and in blogs we are enjoying connecting with so many positive retailers at our user meetings. Their stories are inspiring not only for us but for others when they network at these sessions we provide.
In a practical sense, the user meetings are completely free to our customers. We fund the professional hotel meeting venues where we hold them and provide beverages and food to sustain those who attend.  We fly in technical experts and people from our leadership team … to ensure that we have everyone on the ground at each meeting to provide the best experience and value for our customers possible.
Next week we move to Sydney, Newcastle and Hobart and the following week it is Cairns and Brisbane.