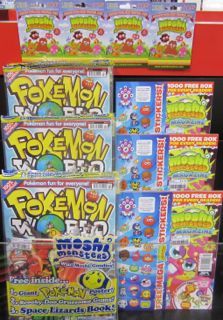 We have received more good news about retail sales from retailers using our Point of Sale software.  The sales of the electronic products who we have added to our platform over the years continue to sell very well.  Indeed, many of our retail partners are driving sales growth from these times.  This is good news for retailers, retailers using our Point of Sale software.
Suppliers have shared sales data showing excellent year on year sales growth on a same store basis for a range of electronic voucher products which can be vended through our software.  This is evidence of more good news for retailers who engage in the product sales opportunities embedded for no cost to our customers within our software.
Vouchers such as those for accessing Moshi Monsters are selling very well as are iTunes vouchers, gift cards, phone recharge and phonecard vouchers.
So amid the retail doom and gloom reports put about by some, we have retailers sharing with us good new about sales they are achieving from products for which their is no inventory cost, almost no shrinkage, easy up-sell and competitive margin reward.  This all amounts to good news and proof of the added value available through use of good Point of Sale software.
We help our retail partners to achieve the most from these products through product training at all levels in retail, marketing collateral assistance and guidance using LCD customer displays for point of purchase shopper engagement.
Big retailers may be having tough times but smaller retailers who are smart and leverage the tools and opportunities they have are having a blast! …. in a good way.