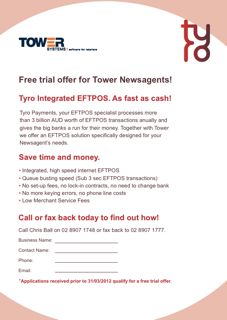 To help retailers  using our Point of Sale software reduce their operating costs, drive sales counter efficiency and cut the cost of mistakes, we have promoted an offer to our retail community which has been developed in association with our friends at Tyro.
The offer is very simple – we are offering a free trial of the Tyro broadband EFTPOS solution.  This helps our retailers to compare Tyro to their current bank EFTPOS terminal. They can compare sped, accuracy, costs and support processes.
This trial plus access to our wonderful expert assistance can mean a big difference for retailers, helping them more easily tap into the benefits of broadband EFTPOS.
We use the Tyro service here at Tower Systems and at our own retail businesses. It's fast and easy to use … essential in any busy business.  Our own experience in our own retail stores means that we can offer a level of assistance and support to help our customers beyond what you could expect from a usual software company.