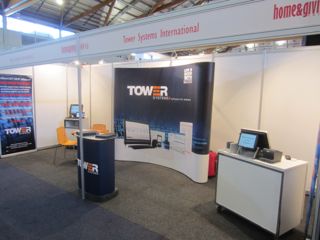 Our stand at the Home and Giving Fair in Sydney this weekend and through to Tuesday was busy on day one, yesterday.
Through the course of the day we saw plenty of sales prospects and plenty of existing customers. Our stats indicate we are in for a commercially successful trade show.
The business of the show and the commercial focus of the attendees indicates that there are plenty of retailers enjoying good success and planning (and investing) for more success. This is great to see, especially to counter the retail  doom and gloom big retailers like to talk about and the media likes to report. No doom and gloom at this retail trade show!
As we have found in our years doing this trade show, the retail businesses represented is diverse – gift shops, jewellers, newsagents, convenience stores and homewares shops.  It is the mix of retail channels represented which really appeals to us as we have software solutions for each of these.
While there is good interest on the HP all in one Point of Sale unit, our software is the real feature at our stand – it is our point of difference and the technology around which we deliver for retail businesses.