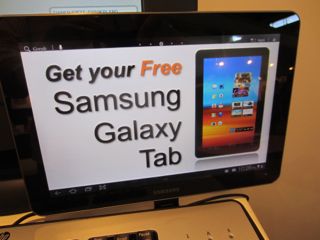 We have a Samsung Galaxy Tab on show on our stand at the Home and Giving Fair this weekend and through to tomorrow.  It shows off how retailers using our Point of Sale software can connect with their businesses through such tablet devices and to show off the free gift for businesses purchasing a Point of Sale package deal from us at the moment.
There is no better way of promoting what our software can do by showing it live at a trade show like this.
The reaction to showing off the Galaxy Tab has been excellent. Business owners and managers like that we can show how they can connect to their business from just about anywhere and through this be better informed and make better business decisions – while away from the business.