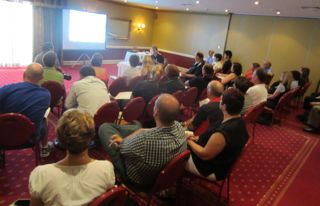 We had a terrific user meeting in Brisbane yesterday meeting with a room full of retailers using our Point of Sale software. This was the last stop in our current round of user meetings. We have been to ten cities in just over three weeks and met with hundreds of our users.
We are grateful to those who took time out of their businesses to meet with us. We appreciate your support and your feedback – we got plenty out of the Q&A sessions every time.
These face to face user meetings are our point of difference in action. We have competitors who talk about user meetings yet never seem to actually run them. We are thrilled to be delivering such an advantage for our customers.
The ten-stop user meeting tour also shows our care for providing the best customer service experience. Each meeting also shows that we hold ourselves accountable to our customers. Having senior management facing up to customers for direct contact is not something you see from many companies. That we do this and do it to a calendar shows us being true to our word and concerned about what our customers achieve through out software.
As often happens after a long time on the road, those involved in the meetings return back into the business with some good stories of customers and how they are using the software as well as travel stories.  There is no substitute for such face to face contact. We are far better for having completed this latest user meet8ing tour.
We are now looking at a second round for sometime after Easter when we will get to larger regional centres. More on that in the coming weeks.