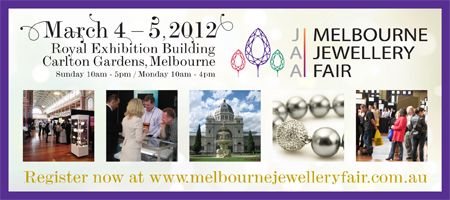 Our jeweller software will be on show and available for demonstration and trial at the Melbourne Jewellery Fair which starts this Sunday at the Royal Exhibition Building.  This will be our second year at this trade show and we are very much looking forward to it and meeting with jeweller suppliers and retailers.
The Melbourne Jewellery Fair is a refined, boutique like, event, attracting professional jewellery retailers who care about their businesses. These are our customers, jewellers who are serious about business and keen to follow best practice.
Our jeweller software serves this market well. It is mature yet still evolving. With hundreds of jewellers as customers we are able to leverage a valuable knowledge pool in guiding software enhancements.
Jeweller facilities such a manufactured goods, second-hand goods, repairs, jewellery product specific inventory management and employee rewards and commission, our software is well established as jeweller specialist.  Add to this our more general but equally useful customer loyalty tools, marketing, Point of Sale, integrated EFTPOS, business reporting, security integration, theft management, account management and a host of other facilities and you have a robust jewellery software package suitable for a wide variety of jeweller businesses.
The beauty of the Melbourne Jewellery Fair trade show is the relaxed atmosphere. It is unlike most other trade shows. There is little time pressure, the aisles are not packed and the Fair itself is not too big. This provides for a much better and appreciated experience for attendees and exhibitors. It's why we are looking forward to it.