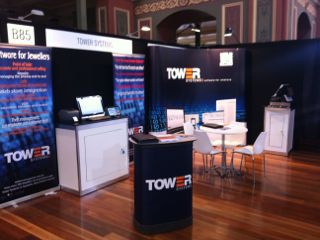 Our stand at the Melbourne Jewellery Fair is attracting new customers for our jeweller software and providing an opportunity to connect with existing customers. Running yesterday and today, this premium jeweller trade show is a wonderful trade show event for us. The Royal Exhibition Building is the ideal venue.
As the photo shows, we have a professional showcasing our professional software and service for jewellers. We are backing up the look with jeweller experts staffing our stand.
Trade shows like the Melbourne Jewellery Fair are an excellent way of showing off our points of difference from software through to customer service. We love them not only for the business they uncover for us but the also for contact with our customers.