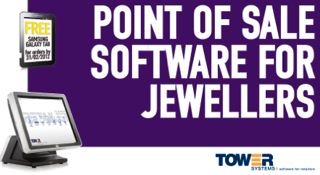 The FREE Samsung Galaxy Tab on offer from Tower Systems to jewellers with its jeweller software package this month is exciting jewellers and driving sales.
Ending on March 31, 2012, the offer provides jewellers with a free Galaxy Tab for no additional cost. The Galaxy Tab can be used for personal use or to connect to the business while away from the business. The offer is a great way of demonstrating the tablet connectivity option for retailers using our Point of sale software.
With hundreds of jewellers already partnering with Tower Systems, the company is well established in this channel in jewellery businesses large and small, in shopping malls as well as high streets, as parts of groups as well as independent businesses.
Jewellers are also benefiting from enhanced software thanks to the most recent update of the software from Tower Systems.