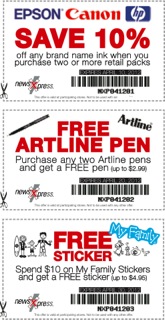 We are thrilled to be helping a group of retailers leverage coupon marketing to drive sales efficiency. Largely untapped in Australia, coupons are widely used in the US and some European countries with great commercial success.
The first steps we have taken are innovative and use existing facilities in our software to track redemption. We will watch how this opportunity is used by retailers and further enhance coupon opportunities within our software based on retailer feedback and supplier engagement.
A good coupon campaign leverages suppliers as much as retailers in delivering innovative.  We are talking with several suppliers on how to help bring more retailers to the coupon opportunity.
While we do not expect Australian coupon use to evolve as far as the US experience where weekend newspapers often carry hundreds of coupons, we do expect good growth in this marketing opportunity as retailers realise the positive impact on basket building which could be achieved.
Our work on coupons includes researching the US experience first-hand, talking with suppliers and retailers on how they use then and then starting discussions on opportunities in Australia.
This is genuinely innovative work for retail in Australia.  We are proud to be in a leading position on this.