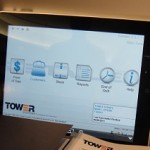 We are thrilled to be offering free training to retailers wanting to learn how to use an iPad in their retail business tomorrow, Thursday.
This free workshop is part of our professional retailer and retail employee training delivered live and online to retailers in Australia and New Zealand. Click here to book.
Retailers using our Point of Sale software can use their iPad, Samsung Galaxy Tab or some other device for a number of things in the business, in-store as well as away from the store. The opportunities are considerable and beneficial. Time saving and revealing.
Even though the session names the iPad, we will cover other devices as we are, as a software company in the tablet space, device agnostic.