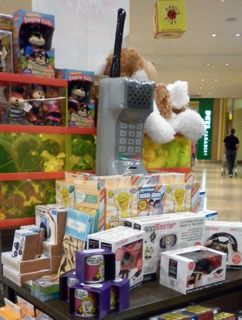 The gift retail space in Australia is highly competitive. This is in part due to broad range of retailers selling gifts. It seems that everyone is in the gift space either all through the year or just for high seasons. Add to this growing online sales of gifts and, yes, you have a robust and competitive marketplace.
From department stores through to micro gift shop businesses, gifts are everywhere.
The Tower Systems gift shop software is aimed at the specialist gift shop, the shop which generates the vast majority of its income from selling gifts … from high end specialist gifts to the simple such as plush for a new baby or a mug for mum's birthday.
Gift shop software is all about helping the gift shop owner and gift shop employees to make the most of being the retail specialist in the space … and about giving a retail experience which as good or better than that offered by the big department store.
We are seeing gift shops grow sales by embracing the opportunities embedded in our gift shop software. Growth from knowledge about business performance, better customer service, customer loyalty programs, gift cards and a range of other services and opportunities presented in our gift shop management software.
Understanding that the shopping experience builds trust between the shopper and retailer is are the core of the benefits delivered by proper use of our professional and specialist gift shop software.
From the micro gift shop with sales of $200,000 a year through to a multi location gift business with sales into millions of dollars, we have the gift shop space covered. Online and offline. Traditional through to the highly seasonal. It is our broad customer base that informs our software enhancements and helps us to deliver good value adjustments in software updates.
Despite recent news reports talking down retail, we are seeing excellent growth in sales through gift shops and are thrilled to be part of this good new story.
Tower Systems is an Australian software company serving in excess of 2,500 small and independent retailers in Australia, New Zealand, Fiji, Papua New Guinea The Cook Islands and several other countries.  The company also operates several retail businesses, providing it with personal and practical retail experience through which it can better understand the needs of its customers.