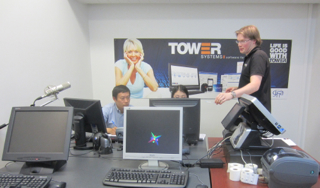 For many years, Tower Systems has offered people purchasing a retail business where our Point of Sale software is in use access to a full day of live face to face training absolutely free. That we still run the training today is proof that with us, actions speak louder than words.
Every week we have new owners in one of our offices somewhere undertaking training in our POS software.  We gratefully provide this service, never asking for payment.
The training has a structured phase where we cover the basics which are good building blocks for understanding the software. Then, we have time for questions and business specific information which is vital to this specific business.
We gladly provide this training for we know that the more a retailer understands our software the more they get from it and the less then need our help desk services to provide over the phone training.
We provide the free software training in our office or through our online and live Web Ex service.
The photo shows training being provided in the studio of our Melbourne office last week by one of our experts, Paul Stamp. Paul is typical of our training experts, he has excellent in the field experience, enabling him to provide practical advice on how the software is best used in the business beyond just knowing wheat the software can do.
We are thrilled to be able to continue to offer this free new retail business owner training service and through this to demonstrate the commercial value of the Tower Advantage TM. There is no doubting the value of purchasing a retail business using our Tower Systems retail management software.