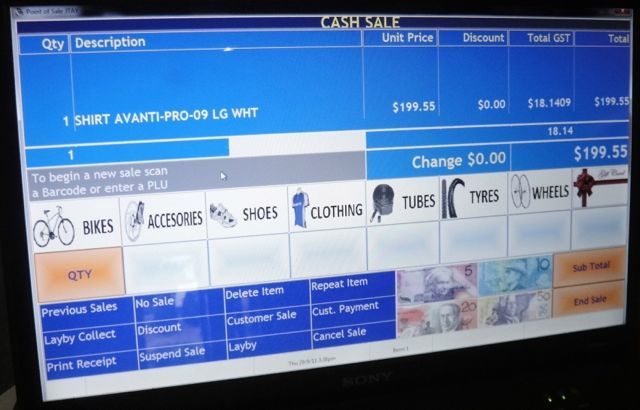 The widely used bike shop software from Australian Point of Sale software developer Tower Systems offers bike retailers the opportunity to connect their online business with their bricks and mortar shop through a smart data sharing platform.
Sharing data, on a two-way basis, with an e-commerce platform, the Bike shop software maintains an accurate record of inventory and thereby serve both online and offline customers.
With fierce competition from online only businesses which trade off the wonderful in-store customer service from physical bike shops, the Tower Systems link enables these more experienced and passionate bike retailers to easily move online using the data they have in their existing businesses.
In addition to providing a bridge for sharing sales and inventory data between online and offline business operations, Tower Systems is able to assist with setup and advice in making the most of the opportunity.  The company can also provide advice on appropriate webstore software to serve specific needs.
This webstore link is another example of the value of specialist bike shop software over the generic software used by some bike retailers. A generic retail management product like MYOB does not offer bike shop specific facilities such as repairs, warranty support, total customer relationship management, bike supplier links and other facilities developed with and for bike retailers throughout Australia and New Zealand.
The latest enhancements to the website e-commerce links are part of an on-going enhancement program by Tower Systems to its specialist bike shop software. With around 200 socialist bike retailer customers using its software, the company is committed to maintaining its market share lead through product innovation and backing this with friendly and professional customer service.
With the most widely used specialist bike shop management software in Australia and New Zealand, Tower Systems is well positioned to serve the needs of just about any type of bike retailer from large to small, networked or stand alone.
Bike shops implementing our software are able to compete by making better use of their resources.  Our Bike Shop Software…
Reduces the time spent on business paperwork.
Reduces mistakes and thereby cuts the cost of mistakes to the business.
Provides management with easy access to business performance data which, in turn, feed better business decisions.
Increases sales by helping the business stock better turning inventory, managing the sales team and engaging in marketing to existing customers.
The Tower Systems Bike Shop Software helps create and maintain better business efficiency and performance.  The results help a business pay for the software in no time.