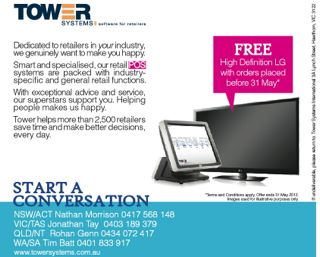 Retailers who install our Point of Sale software can save time. This is why we are giving away a sexy LG 42 inch flat screen TV with Point of Sale system packages sales closed to the end of this Month. This LG TV can be used in the business, at home or as a prize for a customer.
We decided on the bonus offer to underscore the savings available to each business from our software. It is working a treat in attracting even more customers.
Too often software companies focus only on the geek approach in selling their software. While we do that we like to have some fun and to shine a light on the benefits of your system. Hence this break-out offer of a free LG TV.
May has only just started and its already a terrific month for us. We are grateful for the new customers we are winning and the love from our existing customer community.