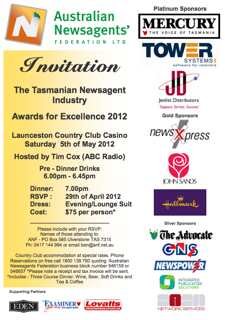 Tower Systems is supporting tasmanian newsagents by being a platinum sponsor of the Newsagent of the Year awards which will be presented tomorrow night in Launceston.
We are the only newsagency software company supporting Tasmanian newsagents by supporting the work of their association.
Beyond the financial support for the newsagency association and their awards recognising best practice, Tower Systems invests in training and other business support offering practical help and assistance to Tasmanian newsagents.
We are proud that our Tower Systems newsagency software is the most widely used right across Tasmania as well as Australia.