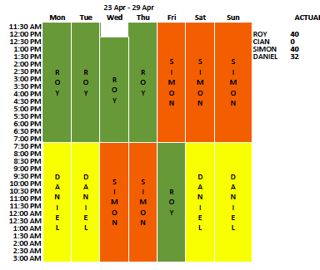 Tower Systems has offered roster facilities in its Point of Sale software for many years. We get a buzz when one of our retail business customers discovers the employee roster facilities for the first time, marvelling at the time they will save and the control they will have by using the roster tools.
With employee roster details entered into a table or visually using drag and drop tools, the roster facilities help retailers save time as they manage roster details centrally and share them with employees by email or text message.
The drag and drop version of the roster is shown in the image (left). Here you can see that each employee working in the week has a different colour, making identification easy.
Integrating the roster with Point of Sale software provides a single reference point within the business for tracking and managing employee roster details.
In a multi-store situation this can be managed and tracked centrally, delivering further business efficiencies.