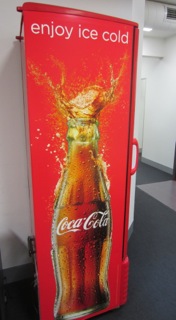 Thanks to the generosity of the Coca Cola company our kitchen now boasts a spanking new Coke fridge. This will hold Coke and other products from the company which are available to team members for quenching thirst through the day.
We work with Coke on a number of levels and in a variety of channels so stocking their products in-house was a natural extension.
Like our top of the line Nespresso coffee machine, having Coke, a good range of food (including healthy options) and a range of teas and other beverages is important in a busy software company.