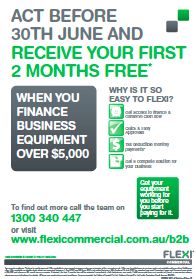 Thanks to easy to arrange finance through the respected Flexirent organisation, retailers are able to organise various forms of finance for business equipment to host our Point of Sale software.
The latest offer from Flexirent offering two months rent free is proving to be popular as it delays the start of payments in addition to respecting retail business cash-flow challenges.
While we are agnostic about how our customers fund their Point of sale systems, we do like the Flexirent offer because pod the speed with which they get approvals and the simple process of formalising the financing agreement. They make it easy for everyone.