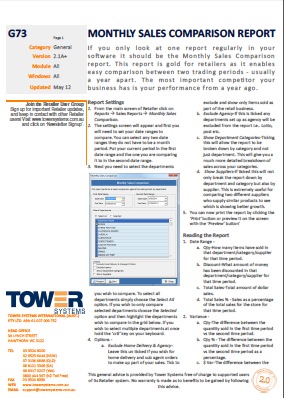 Two new advice sheets just published are set to help retailers drive more value from their Tower Systems Point of Sale software. G73 – Monthly Sales Comparison report and G74 Ranked Sales Report provide practical how to advice on running these retail management reports as well as business insights into how the reports can be used by retailers and their employees.
A point of difference for Tower Systems is the practical assistance it provides its POS software users in extracting genuine value for their businesses through more complete and proper use of the software. This practical assistance is in the form of the ever expanding advice sheet suite as well as through our training videos, help desk as well as management assistance in reviewing business performance.
While running the Monthly Sales Comparison Report and the Ranked Sales Report is simple, each has options which when used can take the reports to a higher level. This is where step by step advice can be of genuine assistance.
We want retailers using our Point of Sale software to be above average. To achieve this goal we, as a software company, need to be above average. This is a reason why we continue to enhance the range box advice sheets we provide to our customers.
There is a considerable difference between software companies in any marketplace. One way to compare is the post sale customer service advice and assistance they provide and the regularity of enhancement of this advice. We welcome such comparison.