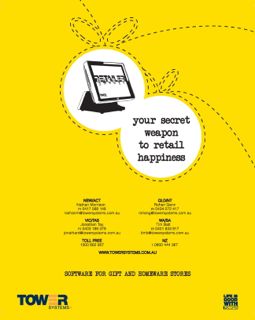 Our in-house creative team has been working on a complete replacement of the marketing collateral used to promote our software in trade journals, brochures and at trade shows. The first airing of the new collateral will come in Gift and Homewares industry publication Giftrap with this advertisement.
This ad is a tease of a broader collateral package representing our retail management software. We are using colours and visual themes which are very current for the age range we are targeting with our marketing.
Too often software companies create advertising which looks like word art from twenty years ago. Our in-house team is showing off their skill by professional representing Tower in a fresh, visual accessible and creative way … like our software.