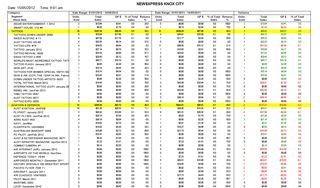 We have been contacted by several magazine publishers in the last few days who have seen the MPA Magazine Performance Report for the first time – even though the report has been part of our newsagency software for many years.
Our MPA report was featured at the Australian Newsagency Blog last week.
The magazine publishers who have made contact have been thrilled to discover that newsagents have such a valuable resource available to them.
What is interesting to us is that this MPA Magazine Performance Report has not changed in years yet some see it as innovation today.  This is a reminder to us that we ought to be more proactive in promoting some of these highly effective yet somewhat infrequently used reports in our software.
This report is gold in that it presents agreed industry standard metrics in a professional and standard way.  The data to be included and structure of the report were agreed through joint discussions between newsagency software companies and the MPA many years ago.
Within our own newsagency businesses we use the report regularly and it is part of the package of reports on which we train our customers.  We are now encouraging magazine publisher representatives to extract the report so that they can use this when they are in-store.
Beyond traditional software support, we welcome opportunities to educate not only retailers using our software but also their suppliers … for genuine mutual benefit.
There is no doubt that our software has many pots of gold which can be accessed through our broad and valuable suite of business reports.