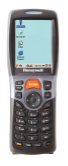 Having come through stock takes in our own retail businesses, we have added another device to the list of recommended hardware for use with our Point of Sale software.
This latest device, a portable computer with tremendous flexibility and speed, enables our customers to undertake a stock take on the shop floor without cables and other larger product challenges.
This device worked a treat in the back room too.
Getting to play in a live situation in our own businesses with hardware we ultimately recommend  helps us make more informed decisions as well as providing us with knowledge which helps us provide better support.