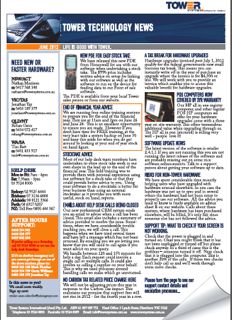 We have mailed our latest print newsletter to retailers using our Point of Sale software and businesses using our distribution management software.
The newsletter has plenty of advice to help our customers get more from their use of the software including information on the end of the financial year, support times and information on how to access to small business tax break which starts on July 1.
We find that communicating with our customers via several mediums is appreciated. This print newsletter, for example, is appreciated by customers who are not as comfortable with email. We are happy to invest the time in communicating across various mediums as it reinforces the relationships we have with our customers and reminds of the Tower AdvantageTM.
Included with this newsletter and every newsletter is a sheet outlining how our customers can contact us for assistance. This sheet demonstrates our commitment to accessibility in that full contact details are published right through to senior management.