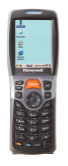 Retailers continuing our Point of Sale software are loving our July special offer of a FREE PDE with any of our package deals for new systems. The PDE is valued at over $700 and is the third gift offered by Tower this year to enhance the value of the systems we offer retailers in a range of retail channels including: jewellers, bike shops, homewares stores, gift shops and garden centres.
This PDE can be used for completely portable, fast and safe stock takes. It's excellent value … especially for retailers purchasing this month as it is free with our system – for orders placed by July 31, 2012.
More and more retailers are managing stock on hand with our software, eliminating the need for a stock taker and delivering accurate data with which to drive better quality business decisions.
We are thrilled to be in a position to give a gift as good as a FREE professional PDE unit.