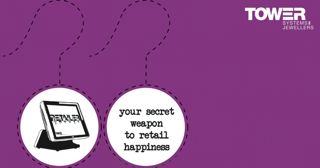 We are proudly promoting the latest release of our latest jeweller management software with the mailing of a new professional postcard to jewellers across Australia.
This postcard is the first outing of new look collateral which starts with this purple front and moves to an elegant rear side with details of what we offer jewellers including a special gift for this month.
The postcard campaign is connected with our trade shows and other activities serving jewellers using our software and to encourage others to come and join our jeweller user immunity of many hundreds.
From the sales counter to the workshop to the back office, our jeweller software delivers excellent business management and bottom line strengthening frailties which help jeweller businesses of all sizes and in all types of situations.
We are further supporting jewellers using our software with an online and live open forum for jewellers on August 2.  This event will allow jewellers from Australia and New zealand to network without having to leave their businesses. It's unique … something we are most proud to have initiated.