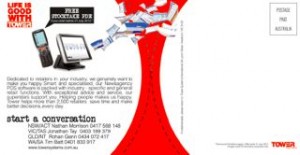 The free Honeywell PDE we are giving away with package deals of our Point of Sale software this months are popular. The PDE is a genuine gift as anyone who has tracked the price of our system will know.
We have added it this month as a post end of financial year gift and a thank you for early 2012/13 sales.
For us, the PDE is an extra special gift as it encourages retailers to more effectively manage stock. We know that the better retailers using our POS software manage stock the better the results for their business and they more then get from their IT investment.
We selected the Honeywell PDE because of the excellent facilities. We use it ourselves in our own retail businesses. This helps us provide even better support.