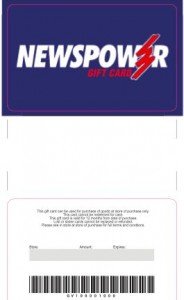 Tower Systems is funding an initial support of gift cards for Newspower in South Australia as practical support for newsagents.
Having developed the art for free we are now paying for the manufacture of the gift cards to give Newspower members an opportunity to play in the lucrative gift card space.
We have drawn on our work with many retailers in various retail channels in delivering gift card solutions from the physical cards to the trading terms to the software for managing gift card balances.
It's this work which will help Newspower to help its members to grow stronger and more valuable businesses.
We are pleased to have the resources to help.