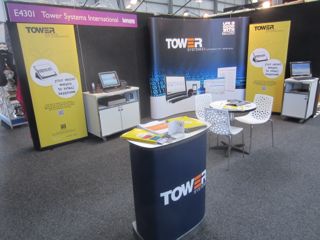 The first two days of the Home & Giving Fair in Melbourne has been wonderful for us. Our well located corner stand has been busy with a terrific mix of existing customers and new sales prospects.
From the first two days, we have commercially valuable high quality sales prospects from across Australia as well as some from New Zealand. We have also got to talk with plenty of others on the floor of the trade show. It's beneficial being the only gift and homewares software company.
The mood is wonderfully upbeat – these people love their businesses and are reporting excellent sales results. The positive vibe from these small business operators is wonderful.
We have a couple of computers on the stand along with an iPad and a Honeywell PDE … all the gear we need to show off the Tower Advantage.
We're connected live to our corporate back end – reporting sales prospects real time to Tower sales team members elsewhere.
Having a software support person on the stand is a bonus as we can answer technical questions for customers without distracting our sales people from professionally representing our retail management software.