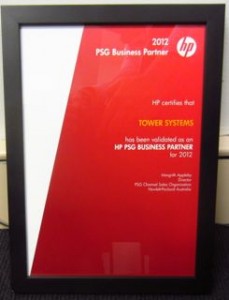 HP has recently acknowledged our business partner status by providing this plaque for placement in the office.  As a partner of HP we have access to additional benefits with which we are able to better serve our customers.
Since switching to HP computers the feedback from customers has been wonderful. Besides the excellent speed and quality of the hardware, the peace of mind from the three year on site HP warranty included in the price is appreciated and respected.
We work with HP on a range of levels, beyond mere supply of hardware. Their insights into global trends, especially their retail insights, help broaden our perspective.  This is why it's called a partnership – it goes beyond traditional hardware supply and we like that.