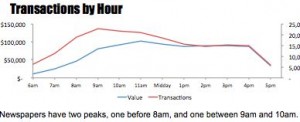 For several months we have been working with an international supplier to help retailers using our retail management software to understand retail performance in depth.  The result is a slide deck of fifteen slides presenting an analysis of business performance. The visual representation of dat from a high level is providing tremendously valuable insights.
While the results are confidential, we can share one simple insight – transaction volume versus transaction value over the course of a day.  The graph for just one of the participating stores and one of around fifteen for this store, shows the gap between volume and value. It is this type of insight that can help a retailer to better schedule people and resources to maximise opportunity for the business.
Our exclusive work in the newsagency channel with this supplier of international standing is resulting in commercially valuable insights for our customers, the supplier and other key stakeholders.  We are thrilled to be part of such a valuable project.