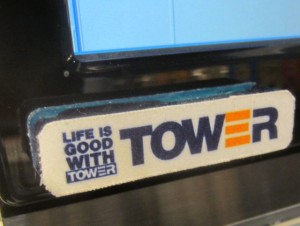 We have been giving away a gift at trade shows to extend the reach of our Point of Sale software brand and reinforce our core pitch to retailers: LIFE IS GOOD WITH TOWER.
The gift is a small screen cleaner, suitable for any screen – especially useful for a touch screen. The back of the cleaner is adhesive and can be stuck to the screen. If the stickiness of the back becomes diminished all that is needed is a quick wash with water and it's good to go.
Having a gift for trade show visitors reinforces the value we bring to relationships with our customers, the gifts we offer through our software and our customer service.
The gift reinforces the Tower Systems difference and shows that not all software companies are the same.