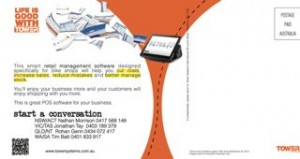 We have just sent a professionally designed and printed postcard to bike retailers around Australia inviting them to start a conversation about business management, growth, efficiency and enjoyment.
Thanks to years of work with bike retailers in Australia and New Zealand we have developed software tools and management tactics to help bike shop owners and managers to improve business efficiency and performance. With that comes greater business enjoyment.
The idea behind the start a conversation campaign is to show that choosing software, the right software, requires a conversation about business needs. We know that if we serve needs well we are able to genuinely make a difference. This is what we love doing … making a difference to retail businesses and those who work in them.