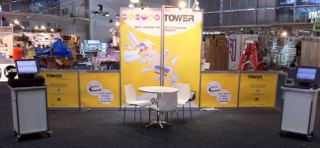 Our team is ready for the Reed Gift Fair in Sydney that starts this weekend. Our stand is a departure from our most recent approach to trade shows.
For this fair we have created fresh collateral, specifically for a one-off use over the next four days starting tomorrow.
The photo shows the stand from this afternoon – others around us were still building their stands.
retailers selling gift and homewares products will easily see us as we merchandise retail management software in a unique way … in keeping with the professional merchandising we often see go gift and homewares stores.