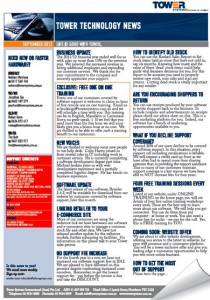 We keep our Point of Sale software customers up to date with weekly emails containing tips and advice, an RSS feed direct to the software and a print newsletter. We keep using all three as different people access information via different platforms.
The latest print newsletter was sent out this week.  It contained plenty of information including several good news initiatives for our customers – one announces another free service from us.
The print newsletter also comes with a CONTACT US page on the back – listing all our contact points including those for senior management and our various state based numbers for support access.  A common complaint we hear about software companies is that it is hard to get to escalate an issue. We make it easy. Our customers can escalate by phone call or email – they can speak directly with senior management any time.  We live this transparency every day.