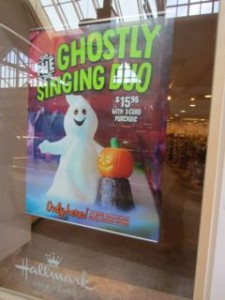 No one does seasons in retail like American retailers and Halloween is just about the best season to see in retail there.
Smart retailers use seasonal opportunities, like Halloween, to connect with new shoppers, to introduce them to the business and invite them back for shopping throughout the year.
Whereas some retailers chase the seasonal sales as an end game, we encourage retailers to use seasons to plant seeds.  Even though still a relatively small season outside of the United States, Halloween is presenting valuable opportunities to retailers in our portfolio community.
In our Point of Sale software we are able to help retailers to embrace the season and connect with first-time and infrequent shoppers in subtle yet effective ways to encourage them back into the store at other times of the year.
We learn from the US experience with seasons. In a usual year, there are at least four other small yet valuable seasons not currently embraced in Australia.  In researching these we have information we can share with our customers to given them options they may not have otherwise considered.
While we are a Point of sale / retail management software development company, we see ourselves more as a resource for our retail community. We share what we learn and encode in our software facilities for making the most of these insights.