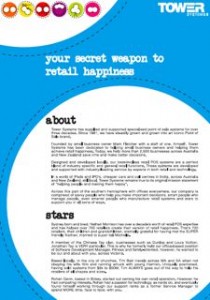 We consider our sales team to be stars: stars because of the retail insights they bring to our retail customers and the practical help they provide in growing stronger and more valuable retail businesses.
Part of our new marketing collateral pack reinforces the positioning of our stars with information shared about them – reflecting their uniqueness and value to our retail customers. This information acknowledges the differences of our starts yet their unified purpose of helping retailers to drive better business outcomes.
This fresh marketing collateral connects visually with the new collateral we have created for each of the marketplaces in which our software serves. Both reminding sales prospects of our fresh software. All of this reinforces the theme: your secret weapon to retail happiness.