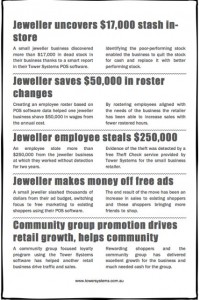 With hundreds of jewellers using our software we get to hear terrific stories of how the software is helping jewellers better manage retail sales, reduce the impact of theft, make better buying decisions and better serve customer needs.
These good stories add to the Tower Systems narrative … stories we share from the field, stories of business benefits tapped into by our smart and engaged customers … using our software.
Our goal is to do good with our software – good for our clients, good for those working for our clients and good for their customers. Stories like those we get to hear from jeweller and other customers help us learn of the good we have helped deliver.
It's a good feeling, makes us proud.