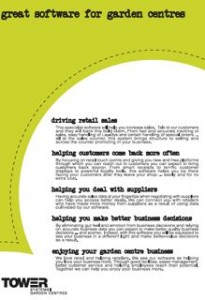 The Tower Systems software for garden centres keeps betting better thanks to suggestions from customers and new opportunities from garden centre suppliers.
The latest enhancements are delivered in new software out now. They have been delivered as part of our commitment to continuous improvement of the garden centre software.
With more than 60 garden centre customers, Tower is well established in the marketplace. As a supporter of the industry association we are showing our commitment to professional development.
We are thrilled with feedback from customers, especially news of how our Point of Sale software is being used in nurseries and garden centres to drive sales this Spring. Every story makes us proud.